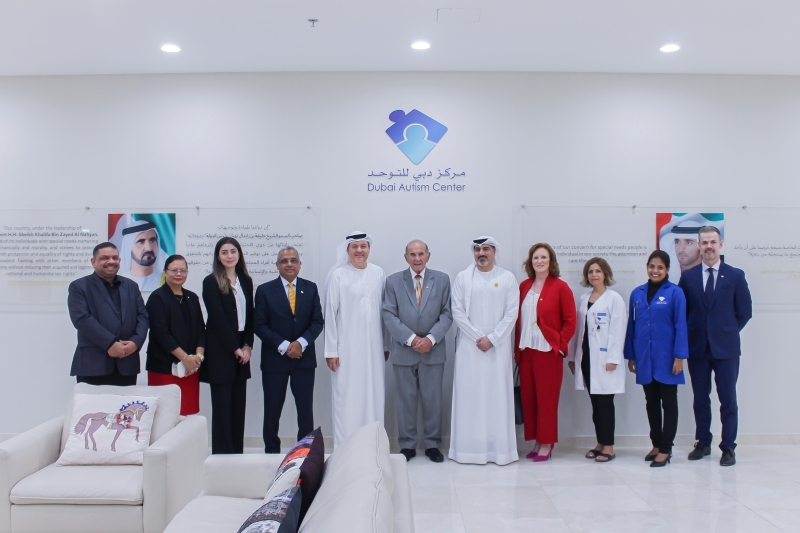 Dubai Duty Free's Executive Vice Chairman & CEO, Colm McLoughlin and a team of the airport retailer's senior management, visited the new building of Dubai Autism Center (DAC) in Al Garhoud, meeting students and program heads as they toured the state-of-the-art facility.
McLoughlin and the team were briefed on DAC's operations as they visited classrooms and clinics and met officials in charge of the educational, therapeutic assessment and rehabilitation programs.
Dubai Duty Free has been a supporter of the Dubai Autism Center since 2004 through the operation's charitable Foundation.
Expressing his support for the Center, Colm McLoughlin said: "I am very impressed with the facilities here at the new Dubai Autism Center and delighted with the progress that has been made by Mr. Al Emadi and his team. The facility provides essential support to students with autism and their families and the standard of care and dedication by the staff is second to none."
Mohammed Al Emadi, Director General and Board Member of DAC, said: "Our thanks and appreciation to Dubai Duty Free for their continued support to improve the Center's services provided to children with autism."
Mr. Emadi also commended the efforts and longstanding commitment of Dubai Duty Free to humanitarian and community projects in the UAE.
Mr. McLoughlin was accompanied on his visit to DAC by Dubai Duty Free's Ramesh Cidambi, Chief Operating Officer, Salah Tahlak, Executive Vice President – Corporate Services, Sinead El Sibai, Senior Vice President – Marketing, Bernard Creed, Senior Vice President – Finance and Olympia Pineda, Manager – Corporate Responsibility Department.